Plantation Shutters
Plantation Shutters are Chic, sophisticated and stylish and practical, giving you everything you could wish for in a window treatment. They're practical – providing light, privacy and reduced noise without compromising on security as well as low-maintenance, requiring nothing more than a wipe-down to keep them looking their best. D&R Shutters are available in the following specifications:
Austin Shutters
Transform your home with the luxury and elegance of a shutter made of real wood called Paulownia. Our made to measure Austin Shutters are Skilfully hand -made by quality craftsmen. Select from one of our many paint or stain finishes, or opt for a custom colour to really make this bespoke for your home. Our quality Shutters will be carefully made and installed to your exact specification
Dulwich Shutters
Perfect for all windows in your home and ideal for your kitchen and bathroom. The Dulwich shutters are made from PVC that is water resistant and can be finished in any colour from our contemporary range. This product is also suitable for areas that see a high volume of traffic thanks to its durability. Dulwich Shutters are made from a dense PVC that is mortise and tenon joined for ultimate stability and strength. A high quality shutter that is both stylish and practical for any installation.
Types of shutters
There are a number of shutter styles to choose from, and which you finally opt for is often down to a mixture of which design detail best reflects your personal style and what you want your shutters to achieve for any given room.
Café-style shutters
These are hung only on the bottom half of the window and are more cost effective (as they only cover half the window). They are ideal if you live at street level and need privacy, but still want to allow light in, but no good if you ever want to black out the room completely.
Tier-on-tier shutters
Also known as double-hung shutters these are the most versatile shutters you can opt for, with two sets hung one above the other, working independently. This gives great flexibility as you can have the top open and the bottom shut, or vice versa, and both sets can be open or shut too. The only disadvantage is that they can look a bit fussy on some types of windows.
Full-height shutters
These are best for taller windows. There is usually a dividing rail either halfway up, or at a natural break in the window (i.e. at the level of the sash). This makes taller shutters more sturdy and enables the louvres in the top and bottom half to move independently, so you could open the top set to let in light but keep the bottom shut for privacy.
Bathroom shutters
Unlike fabric blinds which can get damp and mildewed in steamy bathrooms, shutters allow extra ventilation with their louvred slats, so they'll dry more quickly. They're also easier to wipe down and keep clean.
While painted wood or MDF shutters are fine in well-ventilated bathrooms, for rooms with high humidity, moisture-resistant shutters are more practical. Made of polymer or polyvinyl, they are waterproof, so the slats won't rot or warp.
Control Types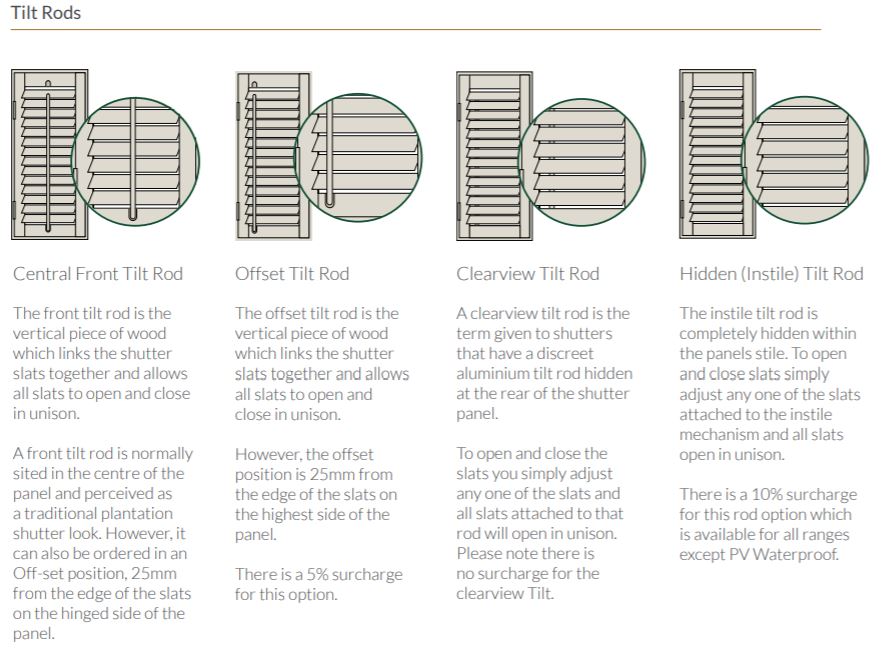 Slat Sizes