LVT Flooring
Have you heard of Amtico, Karndean LG Hausys?
Welcome to the world of Luxury Vinyl Tiles.
For any who are unsure what these are, let me explain.
Luxury Vinyl Tiles (LVT) are individual Stone Tile or Wood Plank lookalike vinyl pieces that are stuck down to cover a floor, giving a hardwearing, water resistant, realistic and practical surface.
The main suppliers that we are able to offer are Amtico, Karndean and LG Hausys, giving a vast selection of effects, enabling you to make your floor truly unique to you.
The options are endless when it comes to designing the layout with the choice of a feature grout strip, any layout including diagonal, herringbone, straight, curved edge, staggered joints, basket weave effect, motifs, design features you name it, if you can imagine it, we can create it.
The LVT products are so realistic, it is easy to mistake it for the look of real stone and wood, with the texture and feel of the real thing.
This is a project we have completed in our shop in Marlborough, which looks stunning, and gives inspiration on what can be achieved, work in progress and then the finished article!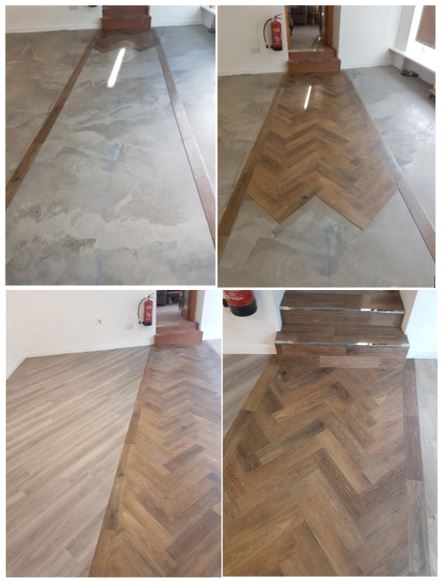 Vinyl tiles give a very smart look, can be used with underfloor heating, stay at an ambient temperature, are not so hard for children and dropping things on, and are very easy to clean and maintain.
Whether your style is traditional or contemporary, you'll be sure to find flooring that matches your taste and style, giving your home that unique mark of distinction.
These floors are suitable for all rooms in the house as well as for commercial use in Retail shops, offices, canteens, toilet areas and atriums.
LVT flooring has benefits over a traditional sheet vinyl product, including the fact they are harder wearing and suitable for use over underfloor heating.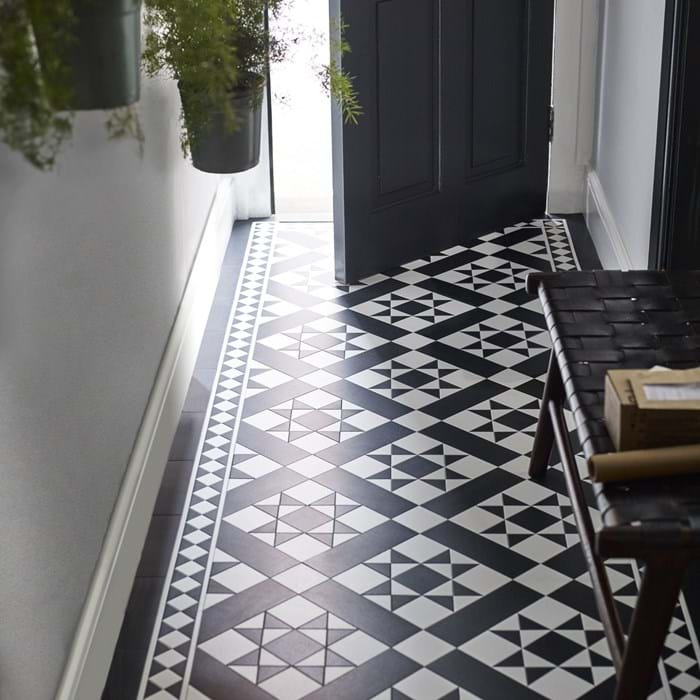 Our experts can advise on what will work best for you, giving you the professional assurance of many years' experience, professional installation training, and the all important aspect of sub floor preparation.
An LVT floor will only be as good as the subfloor it is laid on.
Due to the fact that these tiles and planks are stuck down all over and are individual pieces to form the floor covering, it is very important that the subfloor is absolutely level and smooth. Any undulation will be exaggerated through the tile, making them unable to sit on the floor properly, making the joints un-level.
At D&R, we offer a full assessment of the subfloor, making recommendations for the work that is needed to make your floor LVT ready, with trained experts employed to carry out the work. This may involve the adding of a Damp-Proof Membrane, Self Levelling Floor Screed, Standard Ply, Marine Grade Ply, Shims or Feather Edge Screed. All of this is stocked in our warehouse in readiness to prepare your floor to look beautiful.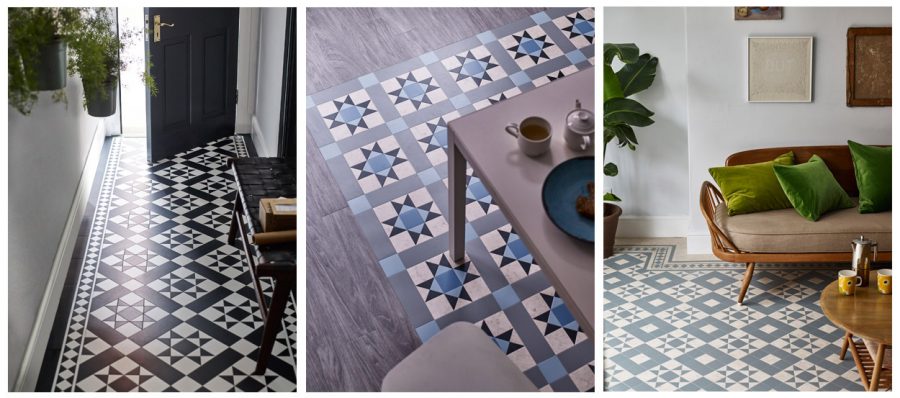 We care about your floors, not only to make it all look lovely, but to the extent that it will last and give many years of trouble-free service.
Amtico – British made, 25 year guarantee, 100's of designs and features – from £40.00M2
Karndean – Many designs and choices – from £26.89M2
LG Hausys – A good choice of wood and stone look alike designs – from £14.95M2