Curtin and Blind Fabrics
Answers from the experienced experts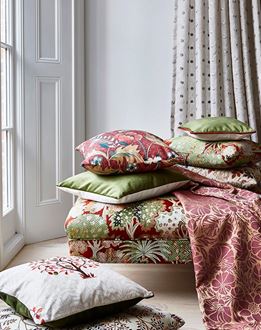 Where can I buy curtain material online?
Buy all your curtain and blind fabrics right here at D&R Furnishers, the best priced and biggest stockist in the UK. We have a vast range of fabrics in stock, along with a huge library of designer curtain, blind and upholstery fabric samples to choose from. These are all supported by our knowledgeable staff, amazing customer service, the best prices and off course our free design assistance.
Which is the best fabric for curtains?
There are many different fabric compositions, as well as single type fibres, all of which have their place. It depends what look you are after, whether you want patterned or plain and many other factors.
At D&R, we have a great choice to guide you through, including:
Cotton
Linen
Polyester
Viscose
Voile
Wool
How do I calculate how much fabric i need to make curtains?
Take the drop or length measurement, add turnings of 25cm, then multiply this by the number of widths required.
In the case of a patterned fabric, take the drop including turnings and divide by the pattern repeat. Round up to the nearest whole pattern repeat, and multiply by the repeat measurement.
To calculate the quantity of widths required:
For Pinch Pleat – Multiply the track or Pole width by 2.5, then divide the result by the fabric width and round up to the nearest whole and divide by two to get the widths per curtain.
For Pencil Pleat Tape – As above calculation, by multiply by 2 instead.
What is the difference between curtain fabric and upholstery fabric?
All good upholstery fabric has a Martindale Rub Test of at least 40,000.
Anything lower than this is not likely to give you longevity of life from your sofas and chairs.
If covering new furniture, or re-upholstering furniture manufactured on or after 1950, the fabric will need to either be inherently Fire Retardant such as 100% Wool, or have a treatment added.
Curtain fabrics are finer and more suitable for drapery, allowing them to be gathered along the heading, and fall in pleats.
These don't usually have a rub test as it is not the suggested use for the fabric.
However, some upholstery fabrics can be used for the making of curtains, and will give a very draft exclusion for the purpose of a door curtain, as an example.