A Guide To Curtain Heading Styles
What curtain heading should I use?
Curtain headings are available in a number of different styles to suit any room, taste, window and budget.
Here we guide you through the different options.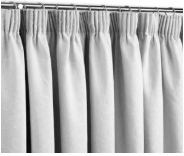 Pencil Pleats
Pencil pleat headings are the most versatile of the heading types. The pleating effect is achieved by adjusting the strings in the tape attached to the curtain. The tape usually has three cords running through it which is pulled to create the pleats. There are three pockets on the tape which can be used to adjust the height of the curtains when they are hung.  You can alter the look of the curtains by creating tighter or looser pleats – simply pull the cords up tighter or loosen them.
Pencil pleats are very popular as a 'basic' choice of curtain heading and can be used with either a track or pole.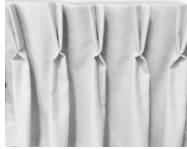 Pinch Pleats
Also known as French Pleats, these are available in either a triple or double pleat. Shown here is the double pinch pleat which is very popular for a slightly more contemporary smart and elegant look. The triple pleats are classic and both types would be made up with hand sewn pleats formed with a buckram which is sewn inside the curtain.  These are hung using special hooks which are inserted into the pleats. Headings tapes for both styles are available although these don't tend to give the same smart, crisp appearance as the hand headed ones.
These can be used with a track or pole although they look best hung beneath a curtain pole.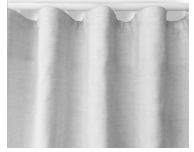 Wave 
The Wave heading is formed using a special formulated heading tape and can only be used with a specific Wave curtain track system.
The look is clean and contemporary and is hung below the curtain track. The most popular system is the Silent Gliss Metropole which looks like a pole but acts like a curtain track.
The Wave system looks great on any window but works especially well on large windows such as bi-fold doors.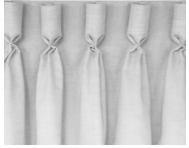 Goblet Pleats
Like the triple pinch pleats, this is a traditional heading style which usually finds it's home in grand homes.
These are also formed by hand using a buckram sewn inside the curtain and the goblets are usually stuffed to help keep their shape.
Buttons are often sewn on to the pleats to give them an extra luxurious look.
As with the pinch pleats, this heading style looks best hung on a pole.
Eyelets
Eyelets headed curtains have rings punch into the fabric and are threaded onto a curtain pole. This look is also very contemporary and usually looks best with a metal pole.
Our curtains are usually hand made using a buckram and metal eyelets.
A special heading tape with pre-punched holes is available if you are looking to make the curtains yourself.  It is important that you have the correct size pole for the eyelets to ensure they run smoothly.