A Guide To Choosing Curtain Tracks & Poles
Should I choose a curtain track or pole and what is the difference?
Both have the same purpose and it is mainly down to the look you would like to create.
CURTAIN TRACKS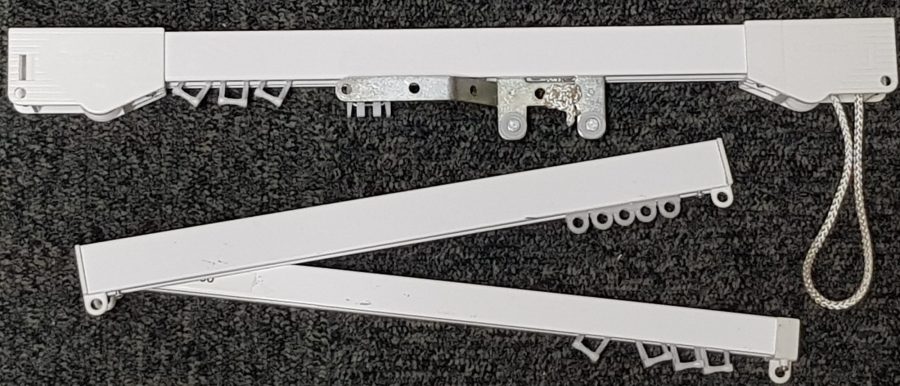 These are available in plastic or metal and come in a number of different styles. Curtain tracks come with gliders which the curtains are hooked on to. These run smoothly along the curtain track.
They tend to be less visible than curtain poles.
Both plastic and metal tracks sit close to the wall and can be bent to fit bay windows.
Curtain tracks are supplied with brackets and gliders as standard
Metal curtain tracks are longer lasting and we would generally recommend these, especially in rooms where the curtains get a lot of use.
Plastic tracks are not really as long lasting as metal tracks. They are best used where curtains aren't used a lot. Saying this, they do work fine and if your budget will only stretch to a plastic track then that fine.
Corded tracks are available to allow you to open and close your curtains to avoid handling the curtains. They can also be used if the curtains are large and heavy, or the window is high up and a corded option would make them easier to manage.
CURTAIN POLES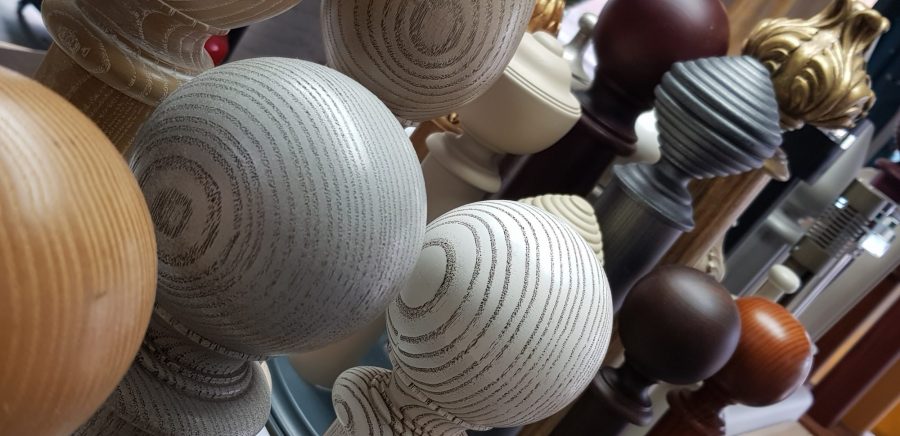 Curtain poles are available in a variety of materials, finishes and colours making the selection and look much more versatile than curtain tracks.
Poles can make a statement in a room or blend in with the paint finish. We offer a large array of finishes in both wooden and metal curtain poles which can be supplied with a number or different finials.
Metal poles are generally available in 19mm, 28mm & 32mm diameter whereas wooden poles are available in 28mm, 35mm, 40mm, 50mm and 60mm.
Bespoke painted poles are also readily available, as are corded wooden poles.
Although not very popular, we are also able to supply wooden poles for bay windows.
Both metal and wooden poles offer contemporary or traditional looks due to the vast array of different finished and colours.
Curtain poles are generally supplied in packs containing brackets, rings and finials. Some are supplied in component form, often allowing you to mix and match as required.
CHOOSING THE RIGHT CURTAIN TRACKS AND POLES
Decide on the look you would like to create and if you would like a curtain track or pole. This decision can also be down to your budget but more importantly take in to consideration the weight of the curtains.
Unlined and shorter length curtains can be teamed with lighter weight tracks and smaller diameter poles whereas heavier, long length curtains need a heavier weight track or larger diameter pole.
If you are thinking of having a curtain pole, take in to consideration where it will be fitted. If it is a tall window, a smaller diameter pole could end up looking lost.
What curtain heading do you have? Pencil pleat headings can work on tracks or poles but pinch pleats tend to look best on poles. Eyelet headed poles require an eyelet pole pack (supplied without rings).
WHAT ARE MY OPTIONS FOR A BAY WINDOW?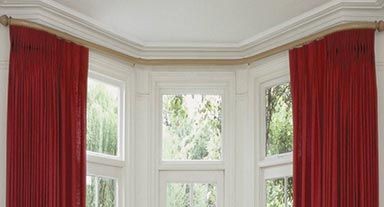 Tracks and poles can both be fitted to bay windows. If opting for a curtain track we would recommend a metal track bent to size. We offer a professional measuring service for this or we can supply a measurement form for you to complete.
Metal poles are also available bent to size and we would recommend this over having kits with corner joints as the curtains run much smoother. Curved poles are supplied with 'C' rings and special brackets which allow smooth running.
WHAT LENGTH CURTAIN POLE OR TRACK SHOULD I CHOOSE?
This does depend on the amount of room you have each side of your window but start by measuring the recess width and then add on 15-20cm each side.
If you have lots of room and if the curtains are going to be heavy and/or bulky, it can be a good idea to add more than this to allow the curtains to be drawn off the window as much as possible to let as much light in as possible.
As always, if you are unsure, please speak to one of our helpful advisers.
Looking for help on heading types? Check out our guide to curtain headings blog.